Capitol Hyundai is so proud of the community in which we live! We feel privileged to have opportunities to give back to you!!!
 October, 2012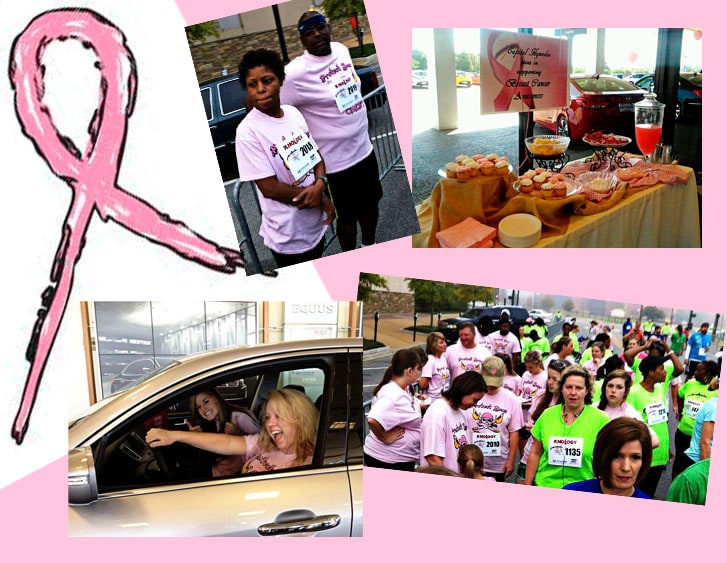 In October, Capitol Hyundai joined in support of Breast Cancer Awareness month. Throughout the month we participated in various activities to raise awareness and show our support for finding a cure for breast cancer. We provided a table of various "pink" refreshments for our customers who visited our showroom. In addition to this, the Capitol Hyundai family walked in the Hyundai Montgomery Half Marathon and 5K. We had a blast sharing these experiences and knowing we helped raise awareness in the wonderful city of Montgomery!
June 2012
Hyundai Hope on Wheels




For more than ten years, Hyundai and its dealers have been committed to fighting pediatric cancer throughout the world.   Beginning in 1998 as a local project support by Hyundai dealers in the New England area, this program has grown into a nationwide initiative that involves more than 700 Hyundai Dealers across the United States.  In the ensuing years, Hyundai dealers have worked with the Hope on Wheels campaign to donate more that 12 million dollars in the fight against pediatric cancer.
A vital part of this program is the Hope on Wheels Tour that travels to children's hospitals and cancer centers across the country each year from April through September.  Each event celebrates the hope in the fight against pediatric cancer by capturing the colorful handprints of children on a new white Santa Fe.  Capitol Hyundai in Montgomery, AL has been an active sponsor and participant in this vital program since its inception and we are proud to continue that tradition this year.  We are committed to providing great products and services and contributing to the River Region community in central Alabama. If you would like to join us in this fight, click here to donate!
 The picture above was taken in Birmingham, Alabama,  June of 2012. Stan Hurst, Capitol Hyundai's General Manager had the priveledge of attenting this Check Presentation Ceremony at Children's Hospital. The $100,000 grant given at this presentation was a donation from Hyundai Motor America to  help support further research to find a cure for pediatric cancer.
Capitol Hyundai team members Candy Johnson, Angie Rooks, Tom Murdock,
Marilyn Schoener, and James Churchwell are pictured above with Tom Lock, President, Family Hope of Montgomery, and Beth Marra, Director, Family Hope of Montgomery.
----------

Families with children account for the fastest growing sector of the homeless population. Family Promise of Montgomery gives hope, faith, and assistance to homeless families in the Montgomery area. It engages with people of faith to help those who are less fortunate return to stability and independence.
To extend our gratitude for Family Promise's mission, our team at Capitol Hyundai donated proceeds from our Memorial Day Barbeque to the Family Promise of Montgomery organization. We are honored to be able to support such causes that have a profound, positive effect on the Montgomery County communities and our neighborhood families.We extend our sincerest gratitude to Family Hope of Montgomery for allowing us to contribute to its cause.


May 2011 - Capitol Hyundai donates to Montgomery Area Food Bank